*SPOILER ALERT* There may be some spoilers if you have not read Tantalize and Eternal. Continue at your own risk!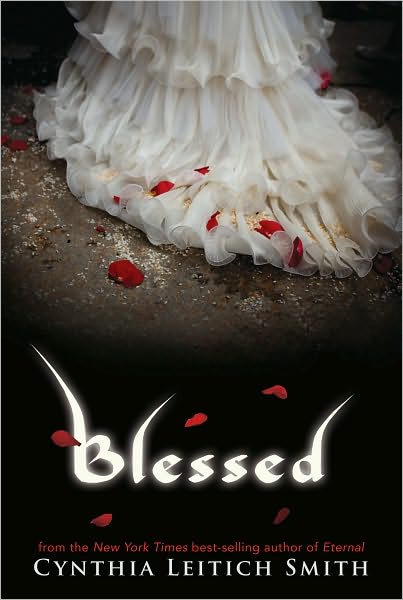 Publisher
: Candlewick Press (February 8, 2011)
ARC
: 480 Pages
Genre
: YA Fantasy
Series
: Tantalize # 3
Book from
: Publisher*
From Goodreads. Quincie P. Morris, teen restaurateuse and neophyte vampire, is in the fight of her life -- or undeath. Even as she adjusts to her new appetites, she must clear her best friend and true love, the hybrid werewolf Kieren, of murder charges; thwart the apocalyptic ambitions of Bradley Sanguini, the seductive vampire-chef who "blessed" her; and keep her dead parents' restaurant up and running. She hires a more homespun chef and adds the preternaturally beautiful Zachary to her wait staff. But with hundreds of new vampires on the rise and Bradley off assuming the powers of Dracula Prime, Zachary soon reveals his true nature -- and a flaming sword -- and they hit the road to staunch the bloodshed before it's too late. Even if they save the world, will there be time left to salvage Quincie's soul?
Review
by Jessica
BLESSED, by Cynthia Leitich Smith finishes up Quincie P. Morris's story with a bang. Quince faces more obstacles than ever with making sure the restaurant she inherited stays up and running, dealing with her werewolf true love being gone, trying to find a way to save a group of humans from turning into bloodsucking monsters, all while dealing with her own undead status.
This book drove me absolutely crazy. It took me longer to read than the first two books in the
Tantalize
series and I couldn't get really interested in it until towards the end. Don't get me wrong, the book was great all around but about three quarters of the book was very slow.
I have to admire Quincie, she takes on so much responsibility without much complaining. Both her parents are dead, her undead uncle is eternally dead and she still has school, her restaurant, and herself being a new vampire without anyone to guide her or help her. A lot of new characters came into play in this one, and a lot of old ones.
Smith weaved
Eternal
, the second book in the
Tantalize
series, perfectly into
Blessed
. I was amazed at how perfectly she brought the MC from
Eternal
, which is a completely different story than Quincie's into this one. It was absolutely perfect. The book was well written and I did like the book overall, it was just a bit slow for my tastes for the majority of the book.
*FTC Disclosure: I received this ARC from the publisher. I do not receive payment of any kind in exchange for a review. I do not receive monetary compensation from any book links in my review.